A beginner's guide to Forex rigging
As the Bank of England gets embroiled in the foreign exchange-rigging scandal, MT tells you all you need to know about how to fiddle currencies.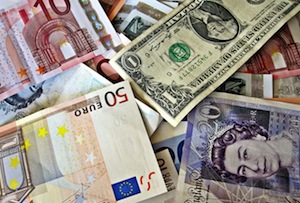 It's the scandal that Financial Conduct Authority chief Martin Wheatley has described as 'every bit as bad' as the Libor-fixing furore, which has so far led to banks including RBS, Barclays and UBS being fined $6bn and ended the careers of top bankers like former Barclays boss Bob Diamond.

Now, the foreign exchange-rigging debacle is continuing to widen, showing no mercy for those who may-or-may-not have manipulated foreign exchange rates in London. This time, the Bank of England's good name is being dragged through the mud. If the Old Lady of Threadneedle Street isn't immune to a bit of FX fiddling, who is?

The investigation into currency rate rigging has ensnared at least 15 banks, with nine (including all the UK's major banks, plus Citigroup, JP Morgan and Deutsche Bank) suspending or firing a least 21 traders between them. Then, yesterday, the Bank of England dropped a shocker, announcing it had suspended a member of staff during its investigation into whether it had been involved.

The Bank, which trades currency to manage the UK's FX reserves and hedge government departments' FX risks, also published minutes of meetings officials held with City traders (some of whom were among the aforementioned 21 that got the chop) that suggested it knew of attempts to set currency exchange rates as long ago as July 2006.

Doesn't look good, even though the guardian of the pound said it had gone through an eye-watering 15,000 emails, 21,000 Bloomberg and Reuters chat-room records and more than 40 hours of telephone call recordings with a fine tooth comb as part of its internal review. It claimed it had 'found no evidence that Bank of England staff colluded in any way in manipulating the foreign exchange market or in sharing confidential client information'.

So how would you go about fixing exchange rates? Look no further…
1. Be based in London
London is the largest FX hub in the world (being bang on Greenwich Mean Time is kinda helpful), with 41% of the $5.3tn (£3.17tn) currency traded globally every day flowing through the City, largely unregulated.
2. Work for Deutsche Bank, Citigroup, Barclays or UBS
You can obvs trade currency elsewhere, but these four banking big boys together account for 50% of the FX market, with Deutsche Bank at the top, sitting on a 15.2% market share.