The beginning of the end for Woolworths
The ailing Woolies will start its closing-down sale today, after failing to attract a suitable rescue bid...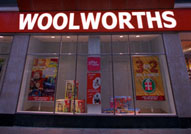 Administrator Deloitte has seemingly admitted defeat in its efforts to salvage Woolworths in its present form, announcing that it will launch a closing-down sale today to try and take advantage of the Christmas rush. Despite various expressions of interest from bidders keen to save the brand – most publicly from that self-effacing chap off Dragons' Den, and most recently its former boss Sir Geoff Mulcahy – it appears that none of the potential suitors have been able to make the numbers add up. As a result, many Woolies stores won't even make it through to its centenary year in 2009…
Launching a fire-sale just two weeks before Christmas may be good news for bargain-hunters, but it's horrible news for the chain's 32,000 staff, who now face imminent redundancy. Deloitte partner Neville Kahn had previously promised staff a job at least until Christmas – but he's now talking about some stores having to close before the end of the year, so some of them might be out of a job on Boxing Day. In other words, a bad situation just got even worse. Other retailers will also be worried about the impact this will have on their own sales.
However, Kahn clearly needs to start the closing-down sale quickly to make sure he shifts as much stock as possible. 'Christmas is clearly the busiest time of the year for retailers and it is prudent to do all we can to sell existing stock. By moving to a store closing sale and further discounting the stock, we are maximising the sales potential that this period offers.' He insisted that he was still open to offers from any interested parties, but it looks as though the priority now is just to raise as much cash as possible for the group's creditors – hence why the most likely outcome seems to be a sale of Woolies' 800-odd store leases (and given their typically prominent place on the high street, there's unlikely to be any shortage of interest from supermarkets in particular).