The benefits of investing in Africa
Former anti-apartheid activist Dr Mamphela Ramphele claimed that Africa has made "historic efforts" to build good governance, strong institutions and fight corruption.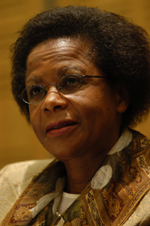 Speaking at the 14th annual Wharton Africa Business Forum, she referred to several elections that were held without violence and charges of corruption. Ramphele's CV is impressive: chairperson of black-owned investment company Circle Capital Ventures, she is also a physician and anthropologist.
After a period in which she was banished to the town of Tzaneen (1977-84) due to her anti-apartheid activities, she emerged in 1996 to become the first black South African to hold the position of vice-chancellor of the University of Capetown. She was also a managing director of the World Bank from 2000 to 2004.
In her talk, Ramphele focused on the positive developments in the continent, mentioning increased investment by South Africa in the rest of the continent; "significant macroeconomic gains"; a series of peaceful elections in 2006; and large-scale retail expansion such as Shop-Rite. Average annual GNP growth had exceeded 5%, she said, and the 2005 acquisition of the South African bank ABSA by Barclay's was one of the largest acquisitions in the world.
South African companies have started to see the benefits of investing in Africa, she said, referring to cheap labour, low competition, cheap rents and higher margins. Vodacom Group, the Johannesburg-based cellular communications company, had to "charter 52 of its own bulky transport planes, install generators in every tower, hire private security and accept that not one single person in the country had a credit history" when it moved into the Democratic Republic of Congo in 2002. However, within six months it had ammassed 135,000 customers, adding 1200 a day, and revenues that "exceeded the wildest predictions".
Ramphele said there were three key initiatives which were building good governance: the New Economic Partnership for African Development (NEPAD), the Africa Forum and the Mo Ibrahim Foundation. Next year, the Ibrahim Index of Governance will rank sub-Saharan countries according to the quality of their political and economic institutions.
The foundation also launched an award in which former African heads of state will receive an annual prize of $5 million over ten years if they have shunned corrupt practices in favour of legal and ethical conduct.
Ramphele supports affirmative action codes designed to make the government favour disadvantaged groups such as women, the disabled and rural communities in state decisions on procurement, licensing and concessions, public-private partnerships and the sale of state-owned assets or businesses.
Source:
Activist Mamphela Ramphele: "The Upside of Investing in African Markets"
Knowledge@Wharton
13 December 2006
Review by Morice Mendoza