The benefits of a nicely decorated desk
A report says letting employees personalise their desks can boost productivity by up to a third. Hmm.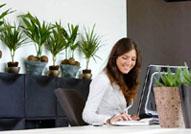 According to 'boffins' at the University of Exeter (whose report carries the unusually jazzy title of 'Enrich the Office and Engage Your Staff: Why Lean is Mean'), workers who had some kind of involvement in managing their working space - and in particular, decorating their personal desks - saw average increases of 32% in productivity and 27% in general well when compared to those in a 'lean office' (i.e. one where only work related items are allowed). One of the broader claims made is that there is a connection between having a say in how a workplace is designed, and feeling good about that workplace. Apparently, this is based on a study that took four years to produce.
We're sure that this study was extremely complex (there are lots of reference to 'testing models' and such like). But we can't help but wonder how it took four years to deduce that workers are more likely to love their office if they don't have to hide family photos in a secret drawer, and instead have complete freedom to put up hilarious sticker that proclaim 'You don't have to be mad to work here, but it helps'. What's more, the cynic might also note that the research was produced in partnership with Ambius, a division of Rentokil that just happens to be 'the world's largest provider of plants, replica foliage and flowers for commercial environments' (they also produce 'ambient scenting', whatever that is). At this point, you have to be a little concerned about vested interests (as with previous pro-plant studies).

Here at MT, we've never been fans of the spartan approach to office management. But we reckon that the productivity differences highlighted in this report may be more to do with the relationship between boss and worker, as opposed to the specific way you decorate your desk. If your boss politely explains that they prefer you to keep personal objects off the desk, you might think they're a bit uptight, but see their point of view nonetheless. Whereas if they read 'Enrich the Office...' and decide that the best way to improve your general wellbeing is bullying you into personalising your cubicle, or covering your desk with a selection of lilies and orchids, we're not sure that's actually going to have the desired effect.