Berkeley sees green shoots - but commercial property reeling
Housebuilder confidence is recovering (a bit), but over 10% of commercial property loans are in trouble...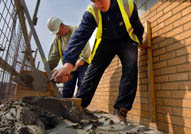 Housebuilder Berkeley Group reported a slight uptick in sales as it reported its half-year results today, while rival Bellway struck a similarly optimistic note. Unfortunately, that doesn't really amount to much, given what a rotten time the sector's had lately. And the state of the commercial property sector reminds us that the financial chickens of the boom years are still coming home to roost: a report out today suggests that over £30bn in bank loans – more than 10% of the total – are either in default or in breach of their loan agreements. So there's more pain to come…

Berkeley – Britain's Most Admired Company in the building sector by a record margin this year – pulled off the tricky task of impressing the City despite a 35% drop in profits, not least because it's managed to maintain a margin of over 17% (and at least it is still making money). It said the market had stabilised in the last six months and that reservations were up on the same period last year – albeit to a level 40% below the historic average. And although chairman Tony Pidgley bemoaned the 'turbulent market', and the lack of a 'feelgood factor', he still felt optimistic enough to splash out on 1,800 new plots across 12 sites during the period.

Rival housebuilder Bellway is also seeing signs of progress: reservations in the last four months have averaged 91 per week, half as much again as this time last year, while average selling prices increased 16% (although again, the comparable period in 2008 was particularly bad). So things are looking up; but it reckons that a 'fundamental shortage of mortgage lending on acceptable terms' is going to be the major threat to any recovery in the near term.

It's a reminder that the banks are still dealing with the consequences of all those dodgy loans they made in the good times. And that's particularly true in the commercial property market, where the volume of lending has just fallen for the first time in a decade. Worse still, over £30bn of the £224bn of outstanding debt is now in bother, according to a new report by De Montfort University – almost £19bn is in breach of covenants, and nearly £12bn is in default (equivalent to the entire market in Portugal, the FT helpfully points out, for those of you with an intimate knowledge of Iberian office space).

British Property Federation chief exec Liz Peace told the FT that the City has learned its lesson: 'Banks lent on the wrong types of properties at the wrong terms in the boom, but now it will be back to safe investments only.' Hmm… Let's wait and see how long that lasts.

In today's bulletin:
False dawn for auto industry as new car sales soar?
Berkeley sees green shoots - but commercial property reeling
Primark in a sweat over exploitation claims
Forget the internet - rats and rubbish are the future
Lady Geek: The 10 best gadgets to buy this Christmas