Berlusconi gets four-year sentence
The former Italian prime minister and media mogul has been sentenced to four years in jail as a convicted tax evader.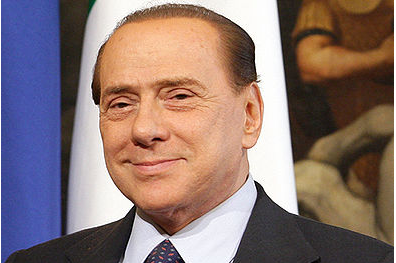 And so the circus surround the former Italian premier Silvio Berlusconi just gets louder and more absurd. The 76-year-old Silvio was found guilty of tax evasion by a court in Milan, but the Italian court system allows him two rounds of appeal before he will actually be wearing any striped pyjamas. The ruling is a seminal moment in a case that has been running for six years and includes 10 other defendants. Oh yeah, and Berlusconi and his co-defendants have been handed a fine of about £8m, and the man himself has been banned from holding public office for three years.
Berlusconi, who at the height of the powers as prime minister was thought to control some 90% of his country's national broadcasting, denies any wrongdoing, and has accused the courts of convicting him because of political motivations. In other cases prior to this one, the courts have either cleared him, or the statute of limitations has expired before a final verdict could be reached. Prosecutors are alleging that all the defendants were responsible for a scheme to buy broadcast rights for US films on Berlusconi's television networks, using offshore companies. The allegations are that they then falsely declared these payments so that substantial tax could be avoided.
Berlusconi stepped down as prime minister last November following extreme pressure to deal with the country's mounting debts, to which he did not really have an answer. He was prime minister for three terms, but eventually ceded power in a slew of other scandals, including allegations that he paid for sex with an under-age teenage and then tried to cover up the scandal – for which he is now also on trial in Milan.