Bernie Ecclestone could be nearing the final pitstop with Paul Walsh 'to take the F1 wheel'
EXCLUSIVE: The ex-Diageo boss is prepared to work with the Formula One supremo, but 'would want to rein him in'.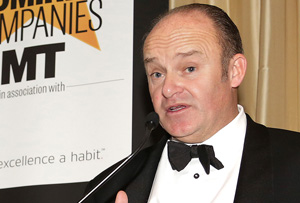 Formula One boss Bernie Ecclestone may be inching closer to the garage, after a year where he escaped conviction for bribery. Former Diageo boss Paul Walsh, who is widely reported to be being lined up as the new executive chairman of F1, is understood to be prepared to work with the increasingly colourful octogenarian, but 'would want to rein him in'.

Reports over the last week had suggested the replacement of Nestle chair Peter Brabeck-Letmathe, who has had health issues, could be announced after a board meeting of F1 holding company Delta Topco this week. However, a source close to Walsh told MT that he didn't attend yesterday's meeting and didn't know when a decision would be made.

'Paul has been courted for nine months now,' the source said, and is 'flattered' to be considered. They added that Donald Mackenzie, the co-chair and co-founder of F1's 35% private equity owners CVC, hadn't wanted to interrupt the racing season, but that Walsh would 'lose patience' if he wasn't appointed before the next season starts in March.

'Paul would want to rein [Ecclestone] in to some extent from a good governance point of view,' and would get 'short tempered' if the 84-year-old didn't change his ways within a 'few months', the source said.
---
---
Ecclestone hasn't returned to Delta Topco's board since he settled his bribery trial out of court for £60m in August. His behaviour has also become pretty erratic recently, for example, telling Campaign Asia last month that he didn't really care whether F1 appealed to young people.

Another source suggested F1 legal chief and reported Ecclestone confidant Sacha Woodward-Hill could take Bernie's place as chief executive, but others thought this unlikely and the billionaire has so far shown zero inclination to step aside.

CVC, which bought a majority stake in F1 back in 2006, has been wanting to float the sport for years, but has had to repeatedly put the brake on IPO plans due to Ecclestone's maverick management style. It declined to comment, as is its wont.

Walsh, who could not be reached for comment, is understood to have never met Woodward-Hill, but knows Ecclestone from when they negotiated Johnnie Walker's sponsorship of F1 team McLaren in 2005. Perhaps not coincidentally, the whisky was announced as a global F1 partner in September.

Ecclestone told the FT last week he had met Walsh and Mackenzie at the Abu Dhabi Grand Prix last month and 'wouldn't have a problem' with the ex booze boss taking on some executive duties if he did become chair.

The 57-year-old, who is currently chairman of FTSE 100 catering group Compass, would be comfortable managing a 'tricky' CEO, having delegated to regional presidents during his 13 years at the helm of Diageo, some of whom 'were completely mad', the source said.

With smaller F1 teams Caterham and Marussia going into administration recently, sponsorship and TV audiences falling and costs spiralling, there's no doubt the sport could use firmer hands on the wheel. And Walsh is a pretty good bet - after all, he did steer Diageo to Britain's Most Admired Company three times, most recently last year. Maybe, just maybe, Bernie is on the brink of being edged off the grid.