And the best place in Britain to a start a business is... Derby?
The home of Rolls-Royce has been named the 'start-up capital' of the UK, ahead of Stoke-on-Trent, Belfast and Wolverhampton.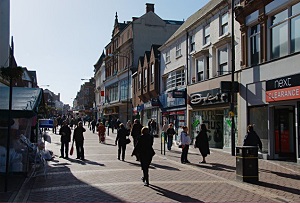 The hundreds of people laid off by Rolls-Royce this year might want to think about starting their own business instead of looking for another job. The ailing aero engine marker's home-town of Derby has been named 'start-up capital' of the UK in a PR study published this week.
The research by Quality Formations which (you guessed it) helps people register new businesses, ranked the UK's 69 cities based on 19 criteria including commercial rents, energy prices, transport links and quality of life. Derby came out on top thanks to its 'affordable cost of living, cheap virtual office rates and sky-high wages' (though the latter is surely a double-edged sword from a business perspective?).
London, Edinburgh, Manchester and Birmingham were all absent from the top 10, whose inhabitants aren't exactly the most well-known of start-up hubs. Stoke-on-Trent's low rents and childcare costs dragged it into second, ahead of Belfast, Wolverhampton, Sunderland and Lincoln (this writer's quiet home town).