Betfair eyes FTSE 250 with £1.5bn gamble
The UK betting firm apparently hopes to raise as much as £1.5bn when it floats on the LSE later this month...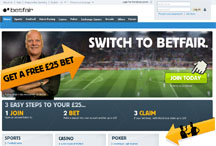 Betfair, the UK firm whose peer-to-peer model has changed the face of betting, has just revealed how much it plans to raise when it floats on the London Stock Exchange: the shares are being priced at £11 to £14, which would value the company at somewhere between £1.2bn and £1.5bn. That would be rather nice for the company's two founders, Edward Wray and Andrew Black (since it would value their respective stakes at around £170m each), not to mention some of the company's longer-serving staff. Though in the current climate, getting your flotation away, particularly at the upper end of your valuation scale, is by no means straightforward. Ask Ocado…

Betfair has undoubtedly been one of the big UK entrepreneurial success stories of recent years: the neat idea and, just as importantly, the nifty software behind it, has helped the company go from strength to strength. It now has 3m customers regularly betting against each other (cutting out the bookmaker), with Betfair taking a 2-5% commission on all wagers. But having made great strides in its home territory, it's now eyeing overseas growth – particularly in the US, India and China, and particularly around the 'high-growth' football market.

Betfair isn't raising any fresh money via the float, i.e. it's not selling any new shares. Instead about half of its current 14-strong group of investors, who hold about 75% of the stock between them, will apparently be selling up, while Betfair board members, senior management (including Wray and Black) and all its smaller shareholders (whose holdings are smaller than 1%) will also get the chance to sell some stock. So this is, as they say, a liquidity event – allowing some of the group's long-time backers and employees to cash in their chips.

So will it raise that hoped-for £1.5bn? Well, the one big question mark for investors is its prospects State-side; it recently bought a (entirely legal) horse racing betting site, which apparently it hopes to use as a springboard to crack the US – but given the regulatory difficulties, that won't be easy. Others might worry that Betfair might end up selling little more than 10% of its shares, which would make it a fairly volatile stock. And recently, the likes of Ocado have discovered that stock market investors are a jittery bunch at the moment.

Then again, Betfair is a very different beast to Ocado. Not only does it have a compelling growth story, but it's also well and truly in the black: last financial year it made profits of £53m on sales of £340m, while it's also debt free and has lots of cash in the bank. So although a £1.5bn valuation sounds a bit rich, on those numbers, we can see why the bankers are confident about getting the deal away.
MT wrote about the story behind the rise of Betfair way back in 2007. You can read it here.