A better Focus
The stakes are high for the new US owners of Focus, the ailing DIY chain that has just sold off 41 of its stores. Not only does it hold the fate of a leading retail brand in its hands – it also has the chance to rehabilitate the reputation of private equity in the UK.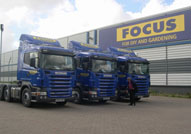 Focus became a byword for private equity mismanagement earlier this year, when it almost collapsed under the weight of its own debts. Its red-faced owners, Apax Partners and Duke Street Capital, were eventually forced to sell it for a measly £1 to Cerberus, the US firm that specialises in buying sows' ears and turning them into silk purses.
In fairness, Focus was a rare failure for Apax and Duke Street, who have both had a fairly unblemished investment record in recent years. They did load the company with debt, but the amounts involved were not unusually large given the company's size and profitability. The problem was the cut-throat competition of the UK high street – Focus ran out of money because it was battered by larger rivals like Homebase and B&Q.
Still, the near-collapse of such a well-known name was meat and drink for the unions this summer, when the row over private equity was at its height.