What better way of killing the Royal Mail than a Christmas strike?
Postal workers are set to vote in favour of strike action - possibly in the run-up to Christmas. Oh dear.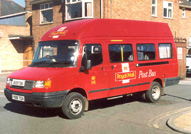 The situation continues to deteriorate at the Royal Mail: the Communication Workers Union said today that its 120,000 members are set to vote in favour of a mass walk-out, for the second time in two years. Given that there's already a backlog, that would cause massive disruption in the run-up to Christmas – and since this will almost certainly hasten the demise of the postal service, we can't help feeling it's a rather self-defeating gesture. Then again, the fact that it's come to this pretty pass doesn't really reflect well on anyone involved, including the management…

The CWU is set to announce the results of its latest ballot today, and all the signs are that its members will vote for collective strike action (as opposed to the piecemeal strike action that's been rumbling on for the last few months). They claim that this is a result of the management and the Government's 'refusal to engage the workforce on modernising the company' – which in practice, appears to involve the top brass paying for a load of new equipment and training without sacking anyone. So in some ways, you can see why management has had such a hard time reaching an agreement over their proposed changes to pay and conditions (and there's a certain irony in the fact that the union is making its point about modernisation via a general strike).

The simple fact is that although Royal Mail recorded an operating profit in the 12 months to March for the first time in donkey's years, their mail volumes are still dropping by about 10% a year, thanks to increased competition and the greater use of electronic mail. So they've no choice but to cut costs. And interruptions to the service are only going to accelerate the process: only today, it emerged that Amazon, the Royal Mail's second largest customer, has cancelled its £25m contract because it's worried about the impact on Christmas sales. Since the Mail is relying heavily on internet retailers to make up for the decline in personal mail, that's a huge blow, and highlights how damaging this strike action could be.

Management insists it's keen to keep talking (and that it's finished its changes for the year anyway, so there's no point striking now). And even the union claims that it would prefer a negotiated settlement, no doubt realising just how unpopular they're going to make themselves if they walk out now. So hopefully there's still time for someone to bash some heads together before this lamentable situation gets even worse.

In today's bulletin:
What better way of killing the Royal Mail than a Christmas strike?
Rumoured Lloyds rights issue raises awkward questions
Ticketmaster and Live Nation face the music
Sir Victor Blank tells MT why he agreed to buy HBOS
Lunch is for wimps?