Big beast Clarke back in Business
Tory heavyweight Kenneth Clarke is to make a remarkable return as Shadow Business Secretary...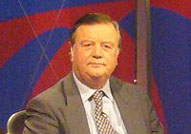 Ken Clarke, the former Chancellor and one of the so-called 'big beasts' of the Conservative party, has been brought back to the front bench as Shadow Business Secretary, as David Cameron looks to bolster his party's economic credentials. With one opinion poll putting the Tory lead at 13 points this weekend, Cameron clearly wants to hammer home his advantage – so he's brought back Clarke to go head-to-head with the Government's Business Secretary Lord Mandelson. Should be an interesting battle…
Clarke (like Lib Dem Vince Cable) is one of the few politicians that actually seems to be more popular with the general public than he is with his own party. His jazz-loving, cigar-chomping persona seems to have earned him plenty of admirers among the electorate, while he also won economic plaudits for his stint as Chancellor, when he capably steered the UK out of recession (and it's hard to criticise anyone who departed 11 Downing St by hiring a removal van and shifting all his own boxes, as a Hush Puppie-shod Clarke did in 1997). Sadly, the same can't be said of the Tory party as a whole, which doesn't think much of his pro-European views – and have twice rejected him as leader, in 1997 and 2001 (he even lost to Iain Duncan Smith the second time, which can't be good for anyone's ego). Tory grandees Lord Tebbit and Lord Kalms have already denounced the move, which must have delighted Dave and co...
Clarke's well-publicised Europhilia had appeared to make any kind of return to the front benches unlikely – the Tories have remained fairly stridently opposed to further integration, and the theory seemed to be that it might be difficult to make Clarke toe the line consistently. However, Cameron obviously wants to fire with fire – after the return of Peter Mandelson boosted Labour support (albeit temporarily), Dave seems to have decided that he needs a heavy-hitter to take him on. And present incumbent Alan Duncan clearly doesn't fit the bill (he's been shunted to shadow Commons leader).