Big brands failing to cut carbon emissions
A new study shows that the likes of Barclays and eBay are actually increasing emissions...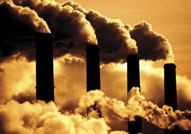 It looks like Britain's biggest brands aren't putting their money where the mouth is when it comes to carbon. A study of over 600 top firms, commissioned by MT's sister titles Marketing, Brand Republic and ENDS Carbon, has revealed that a measly one in five are doing their bit for the planet by hitting the ambitious reduction targets set by the Government. The rest are either increasing their emissions, setting weaker targets, or in some cases, ignoring the issue altogether. It'll be interesting to see how long they can get away with that kind of behaviour...

The Brand Emissions Project (which was conducted at the University of Edinburgh Business School) used figures from the Carbon Reduction Project, an online database that gathers all the carbon data published in company reports etc. So theoretically, the results are based on firms' own information (which they were also given a chance to correct).

But still, the results were mixed, to say the least. The likes of Tesco, T-Mobile, Dell and BMW all got a gold star as 'brand emission leaders' - i.e. they publish full data, and are targeting reductions at or beyond the Government-set level (which is a 34% cut on 1990 emission levels by 2020). However, even if you throw in the 30 that only just missed out on one of these criteria, or the 84 that fell a way short on one of them, that's still only one-third of the total.

In other words, the majority of these 634 firms either failed to produce full/ proper data (247 companies, including the likes of Ryanair, Porsche, Northern Rock and Aldi) or didn't produce any data whatsoever (152 companies, including mega-brands like Google, McKinsey and Amazon). Not terribly impressive.

Apparently some of these firms insist they are taking steps to cut their emissions; it's just that (in the style of Smashie and Nicey's charity work) they don't like to talk about it – in case it benefits their competitors, for example. It might not seem immediately obvious how exactly that would work, but perhaps they're thinking in reputational terms; after all, being greener than your rivals can be a competitive advantage these days.

And that's precisely why this survey – which is henceforth going to be run annually – could cause them a few headaches in the future. Appearing at the bottom of the list in the 'do not disclose' category might make it look like they've got something to hide, and that could potentially damage their brand. Like it or not (and some may argue that the emissions of someone like eBay are so negligible, relatively speaking, that this is all a bit spurious), carbon is becoming a topic big companies can't afford to ignore.

In today's bulletin:
Come clean on banker pay, says Walker
Dubai sneezes - and Britain catches a cold
Editor's blog: There's a lot more grief in store for bankers
Big brands failing to cut carbon emissions
Talent level sky-high at Britain's Most Admired Companies launch