Big Gatwick loss causes BAA profits to nosedive
BAA falls further into the red, as profits are hammered by a hefty loss on the sale of Gatwick.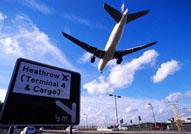 More bad news for beleaguered airport operator BAA, which today posted an increased pre-tax loss of £785m for the first nine months of the year. There was no doubt about the main culprit for this – the £225m loss it incurred when it sold Gatwick to Global Infrastructure Partners earlier this month. But it's also suffering from a fall in passenger numbers and an increased shortfall in its pension fund. So while the figures will make depressing reading for Spanish owners Ferrovial, they probably won't come as much of a shock…

It's been another tough year for BAA, so it's perhaps no wonder its losses widened from £523m in the same period last year. Gatwick was eventually flogged to the owners of London's City Airport last week, but unfortunately it went for £300m less than the asking price. And this has left BAA substantially out of pocket: since it had previously valued the airport at £1.75bn for accounting purposes, it's had to write down the difference between this and the price achieved – which accounted for most of the extra loss.

Still, BAA needn't despair just yet, as there were one or two encouraging signs: turnover actually rose 7.6% to £1.85bn, buoyed by an increase in transfer passengers at Heathrow and the resilience of long-haul flights to India and the Middle East, which rose 10% and 8% respectively. Also, as BAA boss Colin Matthews pointed out, the decline in passenger numbers seems to be slowing: the year-on-year drop now stands at a 5.5%, whereas it was 10% for the first three months of the year (a slight case of clutching at straws, perhaps).

But that's pretty much where the good news ends. BAA is currently appealing against a ruling by the Competition Commission that, in addition to Gatwick, it must also sell Stansted and either Glasgow or Edinburgh airport. If it loses its appeal (a decision is expected at the beginning of next year), it will be forced to sell off more airports at a time when asset values are slumping. So it's likely to end up selling at a discounted price again, which will probably mean more big write-downs next year. In other words, Ferrovial should keep its seatbelt fastened – there may well be more turbulence ahead.

In today's bulletin:
Tesco hovers as EU approves Northern Rock break-up
Big Gatwick loss causes BAA profits to nosedive
Government NIC hike will cost 57,000 jobs, says think-tank
Budweiser brewer had 'frat party' atmosphere, says senior female exec
Check out Lady Geek, our great new technology blog