The big grammar quiz of 2014
Is your unofficial role at work to know your indefinite article from your ellipsis? Andrew Ingram and Tom Freeman offer some advice.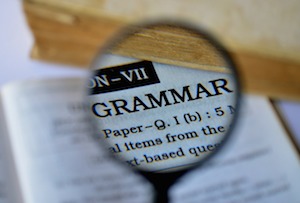 Businesses know that documents with grammatical mistakes can make the wrong impression, so in most offices you'll find an unofficial 'Grammar Checker'. Most of these people won't have a specialist qualification. Normally they studied English to A-level or higher, and they are often older people who were taught grammar more formally.
But the thing is the 'rules' they remember from school are not set in stone. Some are still in place, but others have changed over time as English has evolved. Many were never really rules at all – just preferences which were handed down.
And then there are everybody's 'grammar pet peeves' – different people getting enraged by different grammatical usages in a highly emotional (and very British) way. This puts a lot of pressure on Grammar Checkers to know what the 'rules' really are today.