Biggest drop in inflation for 16 years
Inflation tumbled to 4.5% last month - so the good news is that life is at least getting cheaper...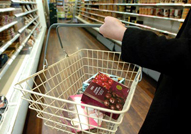 The Consumer Prices Index measure of inflation fell sharply to 4.5% in October – the biggest month-on-month fall since 1992, according to the Office of National Statistics. In September, inflation hit a 16-year high of 5.2% - but since then the cost of living has been tumbling, thanks largely to the precipitous drop in the oil price. Still, the 0.7% drop was more than the City expected, increasing the likelihood that we'll see an interest rate cut of at least 0.5% in December. Just a pity about this nasty recession business…
A fall in transport cost inflation (to 4.3%) was the major reason for the bigger-than-expected drop – this was 'triggered by a sharp fall in the price of crude oil', which is now trading at less than half the price it was in the summer. Food cost inflation also dropped, thanks largely to cheaper meat (supermarkets have clearly been discounting to try and lure shoppers into their stores) while clothing and footwear costs also declined slightly. The ONS also said that the broader retail prices index, which factors in housing costs, fell even more sharply: from 5% to 4.2% (pity that the Government had to use last month's figure for its public sector pay negotiations).
It's the first time in a year that annualised inflation has actually dropped, and shows how rapidly the economic picture has changed. For months the Bank of England has been worrying about soaring inflation – now it has the exact opposite problem. Governor Mervyn King has already expressed his concern that inflation could sink below the Treasury's 2% target, and yesterday, the Prime Minister admitted to the Commons that: 'Next year, the problem is deflation.' To avoid this, the Bank is going to have cut interest rates steeply – and the drop in mortgage payments is likely to push RPI even further into negative territory.