Bill Gates finally finishes reading Piketty
America's wealthiest man reads the acclaimed book calling for a tax on wealth. Unsurprisingly, he doesn't entirely agree with its thesis...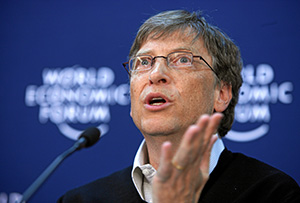 Bill Gates has revealed that he finally got round to reading the economics treatise du jour, Capital in the Twenty-first Century, by Thomas Piketty. In a LinkedIn post, Gates admitted that the 700 page book wasn't exactly a light read, 'even for someone with an admittedly high geek quotient' (MT didn't know Bill Gates was a geek!), but that he was glad he got through it.
Of course, when Bill Gates wants to discuss the topics raised in a best-selling book, he gets to have a chat with the author. In a Skype conversation with Piketty, Gates said, he outlined which areas of the economist's theories he agreed with, and which he didn't.
Here's the gist. Gates agrees with Piketty that wealth inequality is bad, 'messing up economic incentives, tilting democracies in favour of powerful interests and undercutting the ideal that all people are created equal'. He also agrees that capitalism doesn't automatically correct this tendency and that governments can have a constructive role in doing so.