Bill Gross quits Pimco before the shit hits the fan
The bond giant is fast unravelling as its once legendary founder leaves for rival Janus Capital. Talk about two-faced...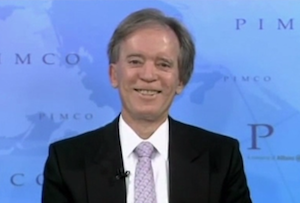 Pimco's once-feted founder Bill Gross has quit in the middle of a US government investigation into the company, reportedly jumping before he was pushed. The leadership upheaval at the world's biggest bond firm comes after the Bond King's apparent heir Mohamed El-Erian resigned in January, amidst reports of blazing rows between the pair.

Gross is joining Pimco's far smaller rival Janus Capital, which has around $178bn (£109bn) of assets under management, compared to the staggering $1.97tn Pimco was managing at the end of June.

It seems the travails of leadership were weighing down on the 70-year-old, who spearheaded Pimco's enormous expansion from around $500bn assets under management a decade ago, as investors fled equities for bonds during the financial crisis.

'I look forward to returning my full focus to the fixed income markets and investing, giving up many of the complexities that go with managing a large, complicated organisation,' Gross, who is setting up a new global macro fixed income division at Janus, said in a statement from his new employer.

But Gross actually left just a day before he was due to be fired for 'increasingly erratic behaviour', CNBC said, without citing its sources. And that wouldn't come as a surprise - when the Wall Street Journal published an article detailing an alleged public shouting match between him and El-Erian, Gross accused his former protege of, er, writing it himself.

Pimco's statement wasn't exactly glowing either. 'While we are grateful for everything Bill contributed... over the course of this year it became increasingly clear that the firm's leadership and Bill have fundamental differences about how to take PIMCO forward,' chief exec Douglas Hodge said.

The timing is certainly telling. Just last week it emerged that the US' Securities and Exchange Commission was investigating whether returns had been artificially inflated at Pimco's $3.6bn Total Return Exchange Traded Fund - allegations the asset manager vehemently denied.

Meanwhile, money has been pouring out of Pimco, with $68bn pulled out in total during 16 straight months of outflows. While that's probably partly to do with Gross' leadership issues, it's also down to investors moving from bonds back into equities as economies (notably the US and UK) recover.

Investors were still caught unawares, though. Janus shares jumped more than 32% in pre-market trading, while Pimco's German parent Allianz fell almost 6% on the news.