Biofuel investment
Companies interested in investing in the biofuel industry need to take into account three risk factors: the cost and availability of feedstock; the impact of government regulation in different countries; and the conversion technologies that might reduce the production costs in certain geographies.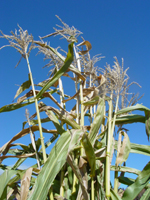 The cost of feedstock has a big effect on profitability because currently it makes up 50-80% of biofuel production costs. A dollar increase in the price of a bushel of corn in the US can reduce a producer's operating margin by 20%.
In the US, the government's ambitious target to switch to alternative fuels has contributed to a rise in the price of corn, one of the feedstock sources used to produce biofuels. In 2005, the average price of a bushel of corn was $1.90, rising to $2.41 a year later. At the end of 2006, the price increased to $4 a bushel on the spot market.
The rise of demand for biofuel has convinced some governments that producers no longer deserve to be subsidised by the public purse. In Germany, the government has said it will eliminate subsidies gradually by 2012, replacing them with a guarantee that producers will have a certain level of sales.
This figure is based on the percentage of biofuel that is blended with conventional fuel (the mandated blend rate). The mandated blend rates will vary from place to place, creating another uncertainty in the market. US regulators, for example, could set a blend rate of 10% (the maximum suitable for current vehicles) to 85% (the maximum suitable for most flex-fuel vehicles, which are designed to run on ethanol).
German companies spend about $2.90 to produce a gallon of biofuel with a subsidy of $1.81 per gallon. Losing the subsidy will clearly reduce margins unless demand rises significantly in the short term, which is unlikely. Some producers, therefore, may experience a significant drop in their margins, perhaps as much as 80%.
While some investors may bet on biofuel producers in countries where there is a cheaper cost source of feedstock, the next generation of biofuel technology may change things yet again making it cheaper to produce the fuel in hitherto less attractive countries.