How the Biscuiteers are icing their way to sweet success
Entrepreneur Harriet Hastings doesn't think her biscuit delivery business will be crumbling anytime soon.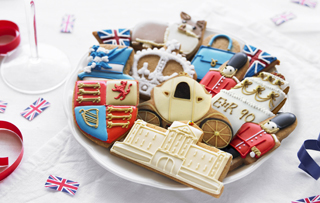 Fancy a nibble on a painstakingly piped gingerbread Queen, a mini Buckingham palace or a replica Queen's Guard, complete with red tunics and bearskins? Well gift retailer Biscuiteers seems to think there's enough of an appetite among the nation for anything royal - it's just rolled out a collection of hand-iced biscuits celebrating the Queen's 90th birthday.
Its new ranges are released seasonally you see – co-founder Harriet Hastings says the firm operates much like a fashion business in that respect, with different collections of biscuits unveiled each season. Biscuiteers also has the licences to the likes of Beatrix Potter, The Snowman and Mr Men, with Little Miss Sunshine and Mr. Bump biscuits among those on sale.
'That new product development helps to keep the interest in the business high,' Hastings explains. Well that and some eye-catching bespoke corporate commissions which make up around half of the business, including a two and a half metre Leeds Castle replica, a gingerbread landscape of London for Selfridges' Christmas window display and a Charlie and the Chocolate Factory creation for Waterstones to tie in with the musical's launch in the capital. Turnover for last year was £3m and Biscuiteers now has 35 full-time members of staff and around 60 part-time in the manufacturing team.