How black cabbies plan to fight back against Uber
Cab drivers have launched a campaign to bring the trade into the 21st century.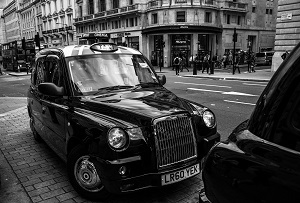 It's fair to say that London's black cab drivers have not taken the rise of ride-hailing app Uber well. The start-up, which has delivered 10s of millions of trips in the capital, has been met with gridlock protests, judicial reviews and furious Twitter rants.
Now it seems the taxi trade has given up on trying to hamper its new competitor and plans to fight back by more positive means – by improving its service. Today the trade launched a new 'action plan', backed by the London Taxi Company, which manufactures black cabs, and the Licensed Taxi Drivers Association (LTDA). The campaign calls for taxis to all be equipped with ultra-fast wifi and contactless card readers, and for new zero emissions cabs to take to the streets by 2018.
'Faster, Smarter, Greener is our offer and our ask of the next Mayor of London,' said LTDA general secretary Steve McNamara. 'The traffic in central London has to flow better and move faster, we must continue to adopt new technologies including apps, wifi and contactless to ensure we are smarter.'