Black eyes for shoppers on Black Friday
The shoppers have gone wild. I repeat, the shoppers have gone wild.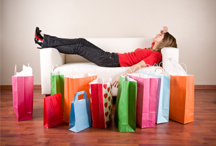 Asda shoppers have come to blows over heavily discounted goods, as UK retailers ramp up their emulation of annual American consumer orgy Black Friday, which takes place the day after Thanksgiving.

One woman was taken to hospital with a suspected broken wrist after what was described as a "stampede" at a west Belfast Asda, the BBC said. A 35-year-old man was also reportedly arrested after fisticuffs at an Asda superstore near Bristol. Those flat screen TVs must be really, really good value.

We've still got some way to go, though, before we do Black Friday properly. Americans spent a record $59.1bn over Thanksgiving weekend in 2012, and this year there have apparently been stabbings, shootings and even police opening fire on shoppers – could next year's slogan be 'Your money AND your life'?

If consumers' appetite for gratuitously named days isn't fulfilled today, then they can take a breather over the weekend to look forward to the next discounting frenzy, Cyber Monday. This one can be enjoyed from the comfort of your home, with Amazon hoping to beat the 41 sales per second it recorded last year.

Secure payments company Sage Pay predicts that more than £500m will be splurged on Monday, up almost 10% on last year, and expects website hits to reach 113 million. To help retailers loosen our purse strings that bit more, Sage Pay got retail psychologist and MT columnist Dr Tomas Chamorro-Premuzic to research shopping behaviour and identify eight different types of consumer.

One Facebook quiz later, and you can discover whether you're a Super Maximiser, Sanctioned Indulger ('close and effervescent relationship with your money' anyone?), or perhaps a Hunter Gatherer 2.0 (the all-new improved version obvs). Not entirely clear which have the sharpest elbows, although, as Chamorro-Premuzic advises, it isn't always a good idea to be yourself.

If you still want to copy the US and stretch your legs, but don't fancy them being hacked from underneath you by rampaging Asda shoppers, there's always Small Business Saturday, on December 7.
Until then, if you've stayed at home today, MT would like to invite you to bask in your sensibleness and watch these Walmart shopper scrums in the US.