Do Black Friday discounts really work?
John Lewis announces a double-digit drop in its weekly sales following record revenues on the discount day.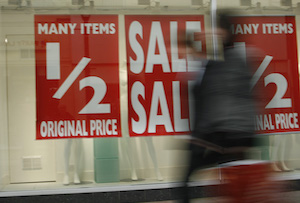 As the frenzy of Black Friday descended on Britain, analysts speculated whether this would mean traditional Boxing Day sales got usurped altogether. Shoppers spent a record £1.1bn at UK online retailers on the day and John Lewis was one of the big winners. It disclosed record sales – up 4.8% year-on-year and 60% week-on-week to a total of £187.7m for the week of Black Friday. But do these discount days provide a boost longer-term or do they just concentrate sales into pointlessly intense bursts?
The unique weekly sales reports from John Lewis are illuminating. The partnership revealed that the week after Black Friday had a double-digit drop in sales, falling 11.8% to £165.6m from the week before – though it's still up 13.6% on the equivalent period last year.
The retailer mentioned a boost stemming from lagging Black Friday shoppers, but also its 'never knowingly undersold' promise, a commitment to match both prices and services. It's interesting to consider which had the bigger impact in driving sales. It's likely to be a combination of the two, plus its consistency when it comes to online retail. Customers presumably feel confident that John Lewis will deliver even during its busiest periods.