Black Friday smashes John Lewis sales records
The American-imported consumer orgy has been good business for one of Britain's Most Admired Companies.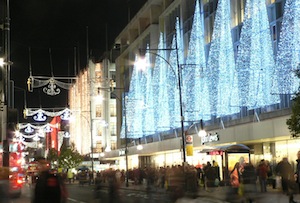 It's looking like a jolly old festive season for John Lewis. After the knockout success of its saccharine Christmas ad, the department store has well and truly cashed in on the American-imported shopping madness that is Black Friday with a record week at the tills. Oh, and did we mention its boss Andy Street won MT's coveted Britain's Most Admired Leader award?

The retailer raked in sales of £179.1m last week, up 21.18% on last year and 56.8% from the previous week. That smashed its previous record of £164.4m, set in the week before Christmas last year.
---
---
Both bricks and clicks reeled in the customers: online sales jumped 42.2% year-on-year to a record high, while stores including Oxford Street brought in their best ever revenues. Operations director Dino Rocos described the shops' atmosphere as 'both seasonal and calm', but even though no police were called to any John Lewises a la Tesco and Asda MT can confirm it gave up trying to get into the chaos of the Oxford Street store last Friday evening.

Electricals broke yet another record (MT wonders if Street has the Guinness Book of World Records on speed dial), with weekly sales up 40.9% year-on-year as the department store fulfilled its Never Knowingly Undersold commitment by matching rivals' Black Friday deals. One tablet was sold every second.

But before retailers go back to black for good, they should heed warnings that Black Friday may merely be Christmas come early as opposed to boosting overall seasonal sales. As independent analyst Nick Bubb put it, 'John Lewis… look to have got more than their share of Black Friday spending, but how much has been pulled forward from December and how much was pulled away from other High Street retailers by that huge Black Friday spike remains to be seen.'