Black gets his comeuppance
Convicted fraudster Conrad Black may claim to be relieved by the six-and-a-half-year prison sentence he received yesterday, but the disgraced peer probably isn't smiling inside at the thought of spending the next few years in a cell, away from his thousand-dollar carpets...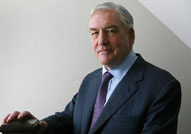 Admittedly, it could have been a lot worse. The 63-year-old could have got 24 years if the prosecutors had their way – and although he's due to serve a six-and-a-half year stretch, he's likely to be out well before his 70th birthday (even if his inevitable appeal fails). And the $125,000 fine is unlikely to break the bank. Still, we've all seen the Shawshank Redemption – being a white collar criminal doesn't look like much fun, particularly at his age.
What's more, we doubt that Black ever really expected to do time – in fact, it seems quite plausible that he still doesn't think he actually did anything wrong. Siphoning off $60m from his company Hollinger International in dodgy non-compete fees (as he sold off his various local newspaper interests) may not have gone down well with shareholders – but judging by his lack of remorse, he seems to have considered himself perfectly within his rights to do so. After all, it was his company.
And since the fraud came to light – thanks to activist shareholder Tweedy Browne – he hasn't exactly helped himself, refusing to acknowledge governance concerns or rein in his spending. Even at the sentencing yesterday he was still defiant – he apologised solely for events after his departure from Hollinger, rather than the major fraud he orchestrated beforehand.