BlackBerry deal creeps towards zero hour
Bidders have until Monday to make offers for the smartphone maker, will it find a saviour or will we see BlackBerry in a jam?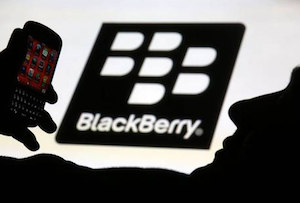 One imagines it's been a tense month and a half for BlackBerry. On 23 September Fairfax Financial made a bid to buy the ailing smartphone maker for $4.7bn (£3bn) – this turned the egg timer on rivals bids, giving other would-be buyers six weeks to speak up, while Fairfax carried out its due diligence. The sand runs out on Monday.

It's thought BlackBerry is eager to get a better deal than the svelte one mooted by Fairfax – which is already a 10% stakeholder in the phone maker. But its share price has betrayed it, staying below the $9-a-share offered – thought to be a sign investors are doubtful the Fairfax offer, or any other, will even go through. Cue nail biting at BlackBerry's Ontario-based HQ.

Doubt has been cast over Fairfax's bid, with analysts accusing Fairfax chief exec Prem Watsa of not providing details of his funding sources or buying partners. Watsa has insisted he is committed to the deal:

'We've got a record of 28 years of completing what we've done. We've never renegotiated,' Watsa insisted.

'We thought long and hard before we offered $9 a share and we're not in the business of offering a number and at the last minute changing the figure. Over 28 years our reputation is stellar on that front. We just don't do that.'

Lotsa confidence from Watsa. But what of the other interested parties?

Well, BlackBerry's co-founders Mike Lazaridis and Douglas Fregin have expressed interest in taking back control of their baby. Some have suggested the pair might strike a deal with Fairfax and create a joint bid – which could result in Lazaridis taking up his old post as chief executive (he stepped down as co-chief in February 2012).

Other 'interested parties' include IBM, Samsung, Lenovo, Google, Cisco, SAP, Amazon and as of last week, Facebook – it reads like a who's who of the tech world but so far, no actual offers have been made. Hear say won't save BlackBerry.

Microsoft is also rumoured to be considering a bid. With its co-founder Paul Allen suggesting the tech giant should focus on selling software and services to business customers, selling off its search and gaming business, BlackBerry could provide some value-adding business services (its messenger tool is going great guns at the moment).

Somewhat sadly, amid all of the speculation, the doubt and the uncertainty – BlackBerry has quietly launched its latest phone, the Z30 and some critics have described it as its 'classiest ever'. Considering it could also be its last, the phone maker could be setting itself up to go out with a bang. Come Monday, if anyone has any fingernails left at BlackBerry, MT will be surprised.