BlackBerry's sell-off plan crumbles
The phone manufacturer has abandoned its plans to sell out, deciding instead to replace its CEO and raise $1bn from institutions. Because it's worked well before...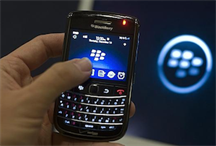 Just last week Prem Watsa, the chief executive of Fairfax Financial, said it has a 'record of 28 years of completing what we've done. We've never renegotiated'.

BlackBerry blew a big, fat raspberry at that today, when it decided that rather than sell up for the anaemic $4.7bn (£3bn) Fairfax had bid, it would prefer to withdraw from sale altogether, replacing chief executive Thorsten Heins and raising $1bn (£627m) from institutional investors instead. Which has always worked in the past…

Shares in the company fell by 19% to $6.33 in pre-market trading this morning, which suggests that investors - institutional or otherwise - aren't impressed. Although Fairfax will at least get some of what it had wanted: the company is said to be planning to buy up $250m of the $1bn bonds BlackBerry will issue.

To be fair, reports suggest Fairfax had been having trouble raising the finance it needed for the buyout in time for a deadline at 5pm tonight (10pm our time). And while BlackBerry's founder, Mike Lazaridis, Facebook and Chinese smartphone manufacturer Lenovo are all rumoured to have been sniffing around the company, apparently it would rather go it alone than be owned by any of that lot.

It could be that they're dodging a bullet: despite various attempts to restore the company to its factory settings, last month it posted a second-quarter net loss of $965m. Although its new phone, the Z30, has had reasonably positive reviews, it sounds like this is one jam BlackBerry might have trouble getting out of.