Blackpool: 'such a dump'?
Not content with Manchester's victory over Blackpool in the battle to house the controversial new supercasino back in January, one of the winning city's business leaders has now decided to really put the boot in, suggesting Blackpool deserved to lose because it's a filthy dump.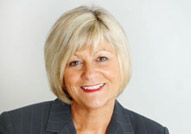 Angie Robinson, chief executive of the Manchester Chamber of Commerce, went to the resort for the Tory Party conference, and came back proclaiming that it would take more than a supercasino to sort out Blackpool's problems. She helpfully suggested that 'Jeyes Fluid, a wire brush and a few gallons of paint' might be more useful.
But she wasn't finished there. The newly-appointed least popular person in Blackpool went on to add: 'The streets were truly filthy, the alleyways full of rubbish being besieged by seagulls and most of the buildings were tatty and the paint flaking'. It's no wonder the political parties are deserting in droves for the delights of Manchester, she said, revealing a tell-tale trace of vested interest.
Robinson didn't mention the hordes of hen nights and stag dos lining the streets and bars of the town on Saturday nights, but we're guessing that probably wouldn't improve her opinion of the place. 'Whilst I am pretty disgusted by the state of Blackpool, more than anything I am deeply saddened,' she intoned solemnly.