Blackstone boss braves the CBI
Stephen Schwarzman, the chairman and co-founder of Blackstone, was never likely to be pelted with rotten fruit at the CBI conference on Monday – an assembled throng of corporate types isn't exactly the toughest possible crowd for a private equity behemoth. But despite his robust defence of the industry, there were a few rumblings of discontent on show.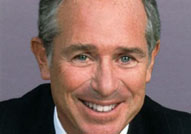 In a rare public appearance, the Blackstone boss told the CBI conference that private equity would continue to play a significant part in the economy, despite the recent controversy. The industry was a 'force for good', he insisted, and if anything had only been guilty of telling its story badly.
Schwarzman drew on many of the standard arguments to defend the industry, pointing to the greater rate of employment increase at private equity-backed business and arguing that (contrary to the general impression) his own firm was actually a much longer-term investor than most public company shareholders.
Not surprisingly, he thinks that private equity's recent bad press – which he described as 'unremittingly hostile', and 'devoid of factual support' – has been undeserved. People's perceptions had been coloured by 'myths and fears that have more to do with anxiety about changes in the global economy and their own lives than with private equity itself,' he told the CBI.