BLOG: Bank of England Director praises anti-bank protestors
I confess I never thought I'd live to see the day when a senior director from the Bank of England sat down on a discussion panel with a member of Occupy, one of the mob who camped out next to St Paul's last year...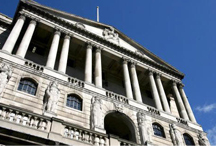 Imagine my surprise when the B of E guy started singing Occupy's praises (and not just because their representative had a bath since their occupation of the area around the cathedral ended).

But last night at the Friend's Meeting House (the Quakers) on the Euston Road I saw just that. And what Andy Haldane, the Bank's executive director of financial stability had to say was equally remarkable. 'Occupy has been successful in its efforts to popularise the problems of the global financial system for one very simple reason: they are right,' he declared.
'If I am right and a new leaf is being turned, then Occupy will have played a key role in this fledgling financial reformation,' he continued. 'You have put the arguments. You have helped win the debate. And policymakers, like me, will need your continuing support in delivering that radical change.' Haldane's full speech can be found here.

Any bankers who labour under the misapprehension that the heat is off or even being turned down are sorely mistaken. Their punishments are still to come. Haldane is quite the reverse of his boss, the very media-unfriendly Mervyn King who, incidentally, got off very lightly when giving his first ever live TV interview to Jon Snow of Channel 4 News the other day. Haldane is from the North, fluent, likeable, blokeish even. He is the co-founder of charity 'Pro Bono Economics', which aims to broker economists into projects in the charitable sector. A bright and highly capable front man for the Old Lady in these times. But one wonders how widely supported his ideas are inside the bank, and more importantly inside the Treasury.

There were a good few Robespierres in the audience who clearly wanted a few investment bakers heads paraded around the City on a pikestaff after Madame La Guillotine had done her work. But Haldane is a civil and civilised servant and didn't want to apportion individual blame or name names. Neither did he respond to questions about changes to the taxation system or offshore tax havens. This was fair enough. He's a regulator not a politician, after all. It's the occupants of numbers 10 and 11 who have to make the really tricky decisions.

Rather than commit banks to the flames for their sins, Haldane appears to advocate a return to the days before the Big Bang when, as far as he can see, banks did a satisfactory even sometimes good job. After the eighties, things started going wrong, though. 'The humble, regional loan officer was pensioned-off, replaced by a centralised credit risk control model which neither answered back nor required a pension. Branches were closed in an effort to contain costs. Banking became a transactional business, underpinned by a sales-driven, commission-focussed culture,' says Haldane.

A lot of this is true. We now hear that the PPI scandal is likely to take away all banks profits for a good while. However, I'm not sure a turning back of the bank clock is the real answer. The problem with a return to the Captain Mainwaring system of avuncular, local bank managers sitting sagely behind their desks on the high street is that it might not have been a great way to do business in the first place. You could argue that a more dispassionate, objective way of assessing credit risk was a slightly more scientific and possibly even fairer way. Just because you hadn't met the bank manager at the Rotary Club or on the ninth green didn't mean you were excluded from the lending party.

I'm not sure Mainwaring will be back any time soon. Not least because his type and modus operandi is not what the vast majority of modern customers want. I'd happily never set foot in a bank branch ever again. The modern customer's touch points with their bank are no longer cosy and occasional chats down the high street office but online or on the phone, if they can get through.

Haldane name-checked Handelsbanken which is expanding fast at the moment in the UK and was featured here in MT last month. He likes the fact that at Handelsbanken, 'no bonuses are paid and no-one has a sales target. The fruits of success are distributed and gratification is deferred.'

Deferred gratification isn't a trait that has been commonly noted among investment bankers. They want their bonus and they want it now. It is the reason they work 14-hour days and the one thing they care about. They have houses in Notting Hill to buy. Haldane reminded us of the extent of the Masters Of the Universe's hubris and slightly sickening advance to the top of the heap. In the old days bankers received the same sort of rewards as other professionals. In 1989 the CEOs of the largest US banks earned 100 times the median US household income. Indeed, many would think this was unacceptable enough but by 2007 that multiple had risen to 500 times and a similar gap had emerged for UK and European bank CEOs.

It couldn't go on forever. And, as Haldane remarked, the only question now is whether the resultant mess will be cleaned up by the era of our children's generation or our grandchildren's...