BLOG: Don't let the economic misery get you down. Become a 'Fifteen Stone Baby' instead
MT Editor Matthew Gwyther is no wimp. News of the UK's impending credit rating downgrade was shrugged off with relative ease. The existence of giant man babies, however... That's another story.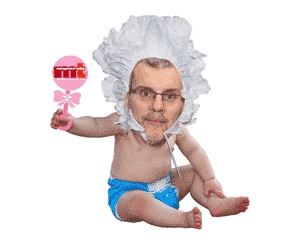 There's shock and there's shock these days. For me the event that has stunned most this week was not the probable removal of the UK's cherished AAA rated status in the international money markets. Those wise and steadfast men at Standard & Poor's will probably judge that we are no longer worthy come the New Year. No, the national humiliation that follows being told we're fiscally incompetent, that we've been barking up the wrong economic policy tree for the last two and a half years, that we're just a common or garden no-hoper like Greece or Portugal, is nothing compared to the jaw-dropping disbelief with which I watched Channel 4's wowza of a documentary 'Fifteen Stone Babies' last night.

For those of you unlucky enough to have missed it, the evil-genius producer somehow persuaded several fully grown men to allow her into their deeply weird world. A world where these blokes are put in nappies by a paid 'mummy' and given a bottle before being placed into a giant-sized cot surrounded by mobiles and soft toys. 'Mum' even changed their nappies, although the camera wasn't allowed to observe the application of the man-sized wet wipe on hairy rear end, thank the Lord.

It's hard to know where to start. Suffice to say when 'Mummy's' husband – who was also her part-time baby – decided he was going to move things along a stage by turning the garden shed into a S&M den for the more adventurous of their customers, I was just purring with the kind of pleasure one felt when reading Alice in Wonderland for the first time.

Anyway. The overwhelming message was that they all found the vicissitudes of modern life far too much. They'd taken one look at austerity, said no thanks and took solace in a return to the secure comfort of infancy where, of course, you don't have a care in the world. (Unless you are teething or have croup or are the subject of a social services investigation for neglect.) In an increasingly insecure and unpredictable world pretending your are 18 months old again made them feel snug.

With our world apparently falling apart around our ears at the moment, it wasn't hard to see the appeal of this. The unrelenting nature of bad news is sometimes enough to cloud over the spirits of even the sunniest and most optimistic of souls. Rather than face the prospect of years of stagnation, job insecurity and global warming where we all freeze to death, you can just put your dummy in and snuggle down in your onesie for a little sleepie, secure in the knowledge that mummy's beaming face will be there when you wake up for another splash of Cow & Gate and (an assisted) burp. And if you're really lucky you'll get told a fairy story about the feckless little porker Georgie Osborne and how his house got blown down by the winds of change.

All things are, of course, relative. If you're feeling a bit bluesy as we approach the final stretch of yuletide bedlam, do two things: firstly, think back to the sunny uplands pre-2007 when you had a 105% mortgage, 15% plus wage increase every year and no cares in the world. It will come back eventually. (With necessary amendments.) And secondly, thank your lucky stars you're not in Aleppo being shelled by your own government and with nothing to eat. Plus, it's Saturday tomorrow.
Image: 'Happiness' at BigStockPhoto