BLOG: Love work. Meet young job-hunters
Small business owner Victoria Whitbread enjoys a Lovework networking evening.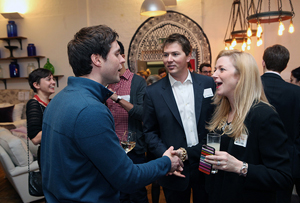 Lovework's tagline 'Celebrating Enterprise' was a rather apt description for the start-up recruiter, which recently hosted its first birthday with a good-fun networking event at Sofa.com's swanky showrooms.

It was an evening best described as a frenetic job hunting, speed dating session for hundreds of the UK's brightest business hopes. Two floors were packed with mainly 20-30 somethings enjoying gallons of delicious drinks (wisely, white wine was courtesy of Naked Wines) and fab canapés.

Invitations were so hot that one of the waiters asked me how he could get a ticket for the next event so that he could network on behalf of his London men's clothing line. Twas ever thus - the small business owner making a crust in the evening in order to finance the day job.

While at university, Lovework's founder Catherine Kennard identified a niche in the job recruitment market where entrepreneurial small businesses and start-ups could benefit hugely from hungry ambitious individuals (generally graduates) keen for the challenge of working for a smaller company rather than the more traditional corporates. Small businesses offer them more opportunity to sharpen their business teeth and make a difference, often at the expense of a bigger salary and less job security.

Filling that gap in the recruitment market could have long-term beneficial effects to UK PLC, assisting Blighty in returning to the global driving seat by upping excellence in business creativity and entrepreneurship.

As a business owner, I can see the merit of finding it easier to source ambitious, fresh minds - rich in ideas and most importantly enthusiasm and passion for my industry (design and manufacturing).

Let's hope that Lovework thrives and creates opportunities for businesses where the best might have otherwise been consumed by the biggest.
Victoria Whitbread is the co-owner of gift and houseware business www.whitbreadwilkinson.com