BLOG: New age freelancing is genuinely cool
These days you can be working for a New York app company from your room in Fulham - you literally don't even have to get off your backside to boost your wages.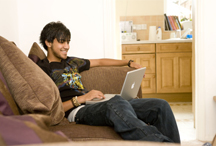 Before writing this piece, I did a touch of reading on what people think of freelancing. How much money can you make? Is any of the genuinely interesting work ever outsourced? Who benefits most - employer or freelancer? A lot of the prattle online is about how it's a sort of slavery by moonlight: wages eroded by crappy economic conditions force young professionals to look for other work in addition to their full time job. But if you're in the creative industries (or have a skill from them), it's genuinely easy to boost your income. And it's cool as well.
Three weeks ago, I found myself looking at a website called PeoplePerHour, where employers find freelancers and freelancers find work - in fact, there are a few of these platforms. I was only on there for about five minutes before a job someone had posted caught my eye. It was a bit of copywriting (simple stuff for a journalist) for an app company in New York. They wanted a brochure written to present to would-be investors for their new app. What happened next was, considering it is document-based, a super-modern-ridiculously-cool-Generation-Y-moment...
I pitched for the work online. Justin from Acapella Apps got in touch straight away (it was 1pm in New York, 6pm in London), to ask me to get on board. In a single message, his first communication, he gave me his Skype name and suggested we 'hook up' in an hour with another freelancer called Isabelle, who was helping out with the project from Cape Town. Sure enough (and with me still giggling about the fact that, for the first time ever, I was actually going to have a serious use for video-calling) we 'met' at about 7.30pm. Isabelle and I sat and listened to Justin - the three of us a triangular 20,000 miles away from each other - about the new app, what the brochure should contain, and the linguistic tone Justin envisaged for it.