Blue Ocean Strategy - How to Create Uncontested Market Space and Make the Competition Irrelevant
Traditional corporate wisdom tells companies to fight it out between themselves to win greater market share. A brave new strategic direction is changing this. Instead of battling in the bloodied red waters of the existing market space, why not move to the pristine blue waters of previously untapped markets? Don't compete with rivals - make them irrelevant. INSEAD Professors W. Chan Kim and Renée Mauborgne outline an exciting new strategy framework, opening a fresh and vibrant way to earn strong profitable growth and win in the future. Already an international bestseller.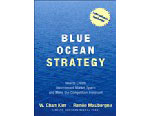 <em>After just under 12 months in print, Blue Ocean Strategy has become an established worldwide best seller, and is being published into 30 languages. Over 2005, it has been voted as one of Amazon's 10 Top Ten Business Books; #1 Strategy Book by Strategy + Business, Booz Allen & Hamilton's leading business magazine; and a Wall Street Journal and Business Week Bestseller.</em>
Companies have long engaged in head-to-head competition in search of sustained, profitable growth. They have fought for competitive advantage, battled over market share, and struggled for differentiation. Yet in today's overcrowded industries, competing head-on results in nothing but a bloody "red ocean" of rivals fighting over a shrinking profit pool.
In a book that challenges everything previously known about the requirements for strategic success, INSEAD professors W. Chan Kim and Renée Mauborgne, contend that while most companies compete within such red oceans, this strategy is increasingly unlikely to create profitable growth in the future.