BMI goes German as Lufthansa swoops in
German airline Lufthansa is taking over UK-based BMI, making it the second biggest carrier at Heathrow...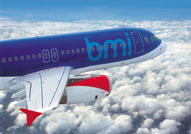 Lufthansa has agreed to buy the 50% stake currently owned by BMI chairman Sir Michael Bishop, to add to the 30% stake it already owns. It follows months of speculation that Bishop was touting his shares around to the highest bidder, and means that Lufthansa now has more Heathrow take-off and landing slots than any other airline except BA – about 11% of the total, to be precise. We can't imagine Virgin being very happy about that…
It's another sign that Lufthansa is likely to be one of the big winners from the current consolidation in the airline industry, which has had a pretty turbulent year thanks to the soaring oil price and falling passenger numbers (for some at least). With a stronger balance sheet than most of its rivals, it's already bought a sizeable stake in Brussels Airlines, and it's negotiating to buy chunks of ailing carriers Austrian Airways and Alitalia. By taking control of BMI – and by extension becoming the second-biggest carrier at Heathrow, Europe's busiest airport – it's strengthening its position even further.
It's been a tough year for BMI: its pre-tax profits virtually halved to £15.5m in the wake of the recent turmoil (although it did actually boost turnover slightly thanks to its takeover of British Mediterranean Airways, a bid to decrease its reliance on low-cost short-haul routes). But there's no question about its biggest asset: those Heathrow take-off and landing slots have been much coveted by rivals, given that there are basically no free slots available for anyone wanting to run more flights out of the airport. Indeed, BMI actually included them as a balance sheet asset in its latest accounts, an industry first – which meant its net assets jumped from £12m to £800m in the space of one year. (Presumably, this also helped Bishop get a bit more cash for his 50% stake.)