BMW surges in China, Nissan suffers boycott
German carmaker BMW has enjoyed record sales after a surge in the Chinese market, whilst Nissan has cut its forecast over an informal boycott of Japanese cars.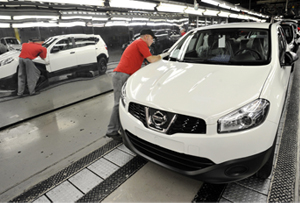 The BMW group has wooed investors today, after announcing a big boost to pre-tax profits in its third quarter, up 17.6% to €1.99bn compared with the same period last year. Predictably, the firm puts a large proportion of the growth down to the fast growing market of Asia: in China, sales rose 33.3% to Almost 238,000 units. In Europe meanwhile, there was only a 0.8% increase in sales. Not surprising given the state of the economy. It's probably fair to say that rioters in Madrid are not eyeing up an M-Series - at least not to buy...
BMW's results are a surprise to the stock market, since Bloomberg analysts were predicting profits of €1.74bn. The strength of BMW's third quarter is also in stark contrast with Mercedes-Benz, which shocked the market in October by cutting its 2012 earning guidance, and delaying publishing a 2013 profit margin target because 'the achievement of those targets has become much more challenging due to the significantly more difficult market conditions prevailing at present.' Which all makes BMW seems the more attractive proposition for investment.
Meanwhile, in exactly the same market, Nissan is having a nightmare. The Japanese firm has had to cut its full-year profits forecast by a massive 20% because of a growing boycott of Japanese car manufacturers in China. This is not a small problem for Nissan, since the Chinese market accounts for around 25% of its total global sales. The firm said the financial year ending March 2013 would yield net profit of Y320bn, down from an earlier projection of Y400bn. All of Japan's carmakers have been affected by a consumer backlash across China, prompted by a spat over who owns a group of islands (Senkaku or Diaoyu, depending on who's side you take) in the East China Sea. They are controlled by Tokyo, but Beijing claims that they are Chinese territory.