BNP Paribas shares edge up as it agrees the biggest sanctions-busting fine in history
The $8.9bn settlement is more than four times the previous record. Shareholders are just relieved the bank can afford it.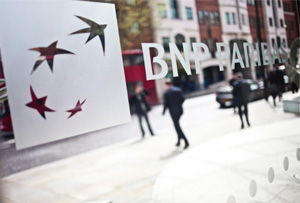 What's going on with BNP Paribas shareholders? Shares were up more than 4% in mid-morning trading, even though it's just agreed to pay US authorities $8.9bn, the biggest fine for breaking sanctions ever.

The answer is they're basically just relieved: the worry had been that, had the bank pleaded not guilty in the case against it, the fine imposed by the US would have been so massive, there would be repercussions not just for the bank, but also for the entire French economy.

As it is, BNP has confirmed it won't have to raise any extra funding to pay the fine, and that paying it won't cause its tier one ratio (a key way of measuring banks' strength) to fall below its 10% target. Cue huge release of tension from shareholders and French politicians, as share prices crept up. Although it's worth pointing out that the bank's shares have lost 16% since February, so it's not like things are going brilliantly at the moment.

Source: Yahoo Finance
The fine, incidentally, is to do with BNP's dealings in Sudan: namely, the fact that it had dealings with Sudan in the first place. The US had issued sanctions against the country because of human rights violations in Darfur, but BNP continued to do business with the country, going to extreme lengths to disguise the transactions. It also kept doing business with Iran and Cuba, despite the fact it had been warned it was under investigation.

An email from BNP's compliance department didn't help things. 'The relationship with this body of counterparties [ie. Sudan] is a historical one and the commercial stakes are significant. For these reasons, Compliance does not want to stand in the way,' it said. Not so much compliance as non-compliance…

'Employees – with the knowledge of multiple senior executives – engaged in a longstanding scheme that illegally funnelled money to countries involved in terrorism and genocide,' said New York Department of Financial Services superintendent Benjamin Lawsky.

It won't lose its banking license in New York, mind – instead, it will be prevented from clearing certain dollar-denominated transactions for a year. That's it.

The FT has a nice chart of the 10 largest fines paid out for sanctions busting in the past:




Notice anything? Yep – every single bank on that list is based in Europe. European leaders are getting increasingly upset by that – to the point where they're suggesting banks in Europe should try to ensure the majority of their international transactions are done in euros, rather than dollars. Will it happen? Difficult to say. But if the US keeps alienating European banks, it could find they don't want to play with it any more.