Boards need outside help
Shareholders should be putting more pressure on boards to be evaluated by external experts, according to a new report – as long as they can agree what it is they're supposed to be doing.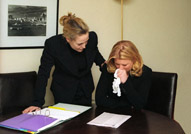 The report, commissioned by search firm Hanson Green and written by London Business School professor Sir Andrew Likierman, looks at how boards can improve the effectiveness of the appraisal process that they're forced to endure under the stock exchange's Combined Code. The requirement was brought in following corporate governance scandals like Enron, and Likierman reckons some boards don't really fancy it. 'Some treat appraisal as a constraint, to be got over with as quickly as possible,' he says.
Understandable – but not sensible, he suggests. 'If you've have to undergo this exercise, it is worth trying to make it as useful as possible,' he said at the report's launch this week. 'There is a tendency to feel that if the company is doing okay, then the board must be doing its job well. But is it doing the job as well as it could?'
Likierman thinks there's been too much focus on process, and not enough on success measures. The first priority should be to work out exactly what the board's objectives are, so you know what you're measuring – a process that the chairman should lead. Then the key is to gather a mix of quantitative data (number of meetings etc) and qualitative feedback ('I think the chairman hates the CEO's guts' etc).