'Bob Dylan asked us to make him his very own wine' - Georgina and Antonio Terni
HOW WE BEAT THE ODDS: Getting Italian men to take orders was just one of many challenges for a female wine-maker.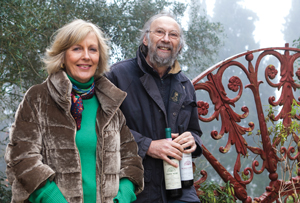 I was 38 when I married Antonio. It was 1984, and I'd lived in Numana in the Italian Marches for a few years after my first husband died in a plane crash, not far from our home. Antonio, an idealistic nuclear physicist and Bob Dylan fanatic, inherited a rickety old vineyard and asked me to help run it. He probably regretted it soon after. I always had a lot of zest, but never an outlet. Like many girls of my generation, I'd left home looking for a husband, not a job. Nobody thought we had any brains, and at first I'd been too indoctrinated to think differently. But by the time I met Antonio, I was restless to achieve something.
I stuck my finger into everything and, where necessary, massaged salt into the wound. I didn't know much about wine, but I didn't like ours. The grapes just weren't ripening, so I asked an agricultural professor why.
Our ploughs used to be pulled by oxen, but tractors had widened the gaps between vines, leaving too much space and sun. Grapes, I learned, needed hardship to thrive, so I narrowed the rows and pruned mercilessly.