Boeing and Airbus delight in Dubai as sales take off
The Dubai Air Show has proven a lucrative event for both manufacturers, with Boeing edging ahead in sales.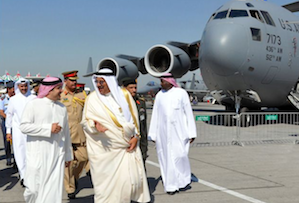 In case we need further evidence of the spending power of the Middle East, the Dubai Air Show has swooped in and delivered more than $150bn worth of sales of new aircraft on its first day – with that figure set to rise today.

The show pitches sizzling rivals Boeing and Airbus against each other, with early sales pushing Boeing ahead – Emirates airline ordered 150 aircraft from the American company alone. Emirates order is thought to be a job lot of Boeing's new 777X long-haul airliners – the introduction of which Boeing chief James McNerney has called, 'the largest commercial launch in aviation history.'

Hopefully a more successful launch than that of the disastrous 787 Dreamliner – which has been nothing more than a nightmare for the aircraft maker since it was rolled off the production lines.

Meanwhile, the tills were ringing at the Airbus stand too; Emirates (clearly looking for a decent dose of retail therapy) ordered 50 A380 superjumbos – worth an estimated $20bn. A real coup for Airbus, considering only nine were bought last year.

Keen to get in on the wallet flashing aviation love-in, David Cameron popped along too. The PM is eager to boost sales of Eurofighter Typhoons to the United Arab Emirates and help BAE Systems to sign a $10bn deal for the jets (and presumably stop BAE's job slashing).

'Helping British business to succeed and linking them up to fast-growing economies is a priority for this Government,' said old Cammers.

'That's why I've made a determined effort to re-energise our ties with Gulf countries, including making three visits in as many years to the United Arab Emirates, which is a leading example of the potential and dynamism of the region.'

The Dubai Air Show is increasingly becoming something of a barometer for the health of the global aviation industry – with the Middle East increasingly throwing its weight around (helped by big spenders Emirates, Qatar Airways and Etihad.)

'In recent years, much of the action in global aviation has shifted to the Middle East because countries like the U.A.E. and Qatar have tapped into our geographical advantage to build a new air transport connection for the world,' Sheikh Ahmed bin Saeed Al Maktoum, chairman of Emirates and the smaller flydubai said.

Hopefully, as well as letting the Gulf Arab region flex its muscles, it'll create a platform from which BAE can flog its jets and also help Boeing to deal with the unhappy news of the air crash in Russia - which involved a Boeing 737.