Boeing gives $10bn share buyback clearance for take-off
The plane manufacturer has raised its divi by 50% and started furiously buying back shares. Things are looking up for investors.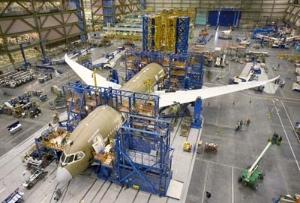 An early Christmas present for Boeing shareholders, after the company announced plans to increase its dividend by 50% to 73 cents, and launch a $10bn (£6.1bn) share buyback, its biggest ever. That's the investor equivalent of not only bumping into Santa, but getting to stroke Rudolph.

It's been a very good year for Boeing, whose share price has risen by about 79%, despite a few hiccups with its new 787 Dreamliner (battery problems, wing defects, that sort of thing). But orders are coming in thick and fast: at the Dubai Airshow in November, Dreamliner orders whizzed past the 1,000 mark, including a $150bn booking from Emirates for 150 new 777 mini-jumbos.

In a statement last night, the company also said it has almost finished its previous $7bn share buyback programme, which it began in 2007. In fact, it said it's down to $800m of the $3.6bn it said it had left at the end of its previous financial year. That means it's spent $2.8bn since it resumed its buyback programme in December, even though it originally said it planned to spend between $1.5bn and $2bn.

Either someone accidentally typed in the wrong figure, or the company has tremendous confidence in itself: share buybacks are usually a sign that the firm thinks its stock is undervalued. By buying back its own shares, it pushes up their value, so investors are happy. It also means that if it ever needs to raise cash at short notice (say, to develop a razzy new plane at short notice - ie if rival Airbus comes up with something worrying), it has plenty of scope to do so.

Of course, it could just be that it's trying to placate shareholders after all those problems with the Dreamliner - although it seems a pricey way of doing it.

As predicted, the announcement pushed share prices up by almost 2% in after-hours trading (the company is listed in New York) to $136.90. Boeing also announced its third-quarter results: net income for its commercial arm rose 24.5% year-on-year to $4.29bn, while net income in its defence arm dropped 1.6% to $2.28bn.

Here's hoping Boeing has actually ironed out those creases in the Dreamliner. Confidence is a fragile thing: any disintegration would end up being very, very expensive.