BoJo calls for chancellor to cut top rate of tax
Cheeky as ever, the mayor of London Boris Johnson has used a business convention in Mumbai to call for the top rate of income tax in the UK to be cut.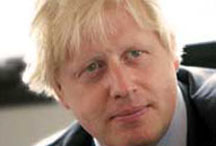 You can always count on Boris either to come out with the funnies, or say something to wind up David Cameron. This time it's the latter. Whilst on a trade trip to Mumbai Boris met local businesspeople on Friday morning, and was asked whether anything could be done to make London more attractive to foreign investors. By that, they obviously meant lower taxes or less regulation. BoJo obliged, saying that chancellor George Osborne should 'brood' on a reduction.
Giving a speech at the Bombay Stock Exchange, he said: 'You've got tax rates here of only 30% - a point George Osborne might like to brood on. It's 10% for freelance income, and of course you have a market of about 600 million people under 25.' The comments, as ever with Boris, are perfectly timed. Osborne's Autumn Statement, in which some fiscal policies are likely to be announced, is next week.
In interviews with journalists after his little soap-box moment, Boris added: 'One businessman said to me this morning that he loved London, he loved the quality of life in London. There are so many attractions of living in London that you can't find anywhere else. That is a very high card. But another businessman asked about making London more attractive in terms of tax and regulation and certainly the tax regime. As I have said many times before, that needs to be looked at.'