BoJo: wind farms don't 'pull the skin off a rice pudding'
The ever-verbose mayor of London has claimed that wind farms will do nothing to help the UK's impending energy crisis.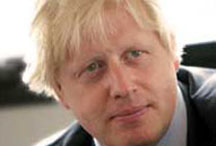 Trust Boris to come out with some odd metaphor to catch everyone's attention while he makes a political point. Speaking on his new LBC radio show, Ask Boris, he said that if we are to avert crisis in British energy, we need to get going on shale gas.
He said: 'Labour put in a load of wind farms that failed to pull the skin off a rice pudding. We now have the opportunity to get shale gas – let's look at it. It is part of the 2020 vision we have for this city – power generation is vital.'
Of course, what he is referring to is the now-commonly held view that wind farms will never fully make up for the shortfall if we do not build more nuclear power stations. One stat even suggests that if we were to coat the entire coastline of the UK in wind turbines, we still would not have enough energy to replace existing power stations.