Bolland goes out with a bang as Morrisons cashes in
Morrisons boss Marc Bolland is going out on a high, as the supermarket sees record customer levels.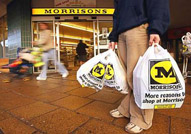 We'll say one thing of (soon-to-be-ex) Morrisons boss Marc Bolland: he knows how to make an exit. The day after it emerged that he'll be succeeding Sir Stuart Rose in the top job at M&S in the new year, his current company has released another set of impressive quarterly results. Admittedly, sales growth has slowed at Britain's fourth-biggest supermarket chain – but that's largely because of slowing food price inflation. The salient point was that almost 11m customers are now shopping in its stores every week, a rise of 20% in the last two years. M&S will hope Bolland can pull off a similar trick in his new post...

It's been another sterling quarter for Morrisons, with total sales up more than 9% and like-for-likes up 4.3% - 'well ahead of the market', it smirked today. Even more impressively, it's now attracting an average of 10.8m customers to its stores every week – an increase of 1.6m since Bolland launched his 'Food Specialist for Everyone' strategy two years ago. Its TV ad campaigns featuring the likes of Denise Van Outen and Richard Hammond may be a bit cringeworthy (in our humble opinion - you may beg to differ), but they seem to be getting punters through the doors.

If you were being picky, you might want to point out that like-for-like sales growth of 4.3% is well down on the 7.8% recorded in the first six months of its financial year, and also lower than the 4.6% City analysts had been predicting. But that didn't come as a complete surprise: Morrisons had already warned the market that slowing food price inflation would take a bite out of growth. So Bolland – or perhaps more accurately, whoever replaces Bolland – is unlikely to be too worried.

Speaking of which, the search for the flying Dutchman's replacement (who, as these results prove, is going to have some pretty big clogs to fill) is presumably already underway. Although Sir Ken, who apparently isn't a big fan of shelling out zillions on head-hunters, might be able to save himself a recruitment fee if Richard Pennycock is promoted to the top job – Morrisons' FD said coyly this morning that he would 'think about' applying. (Bolland himself got to skip the analyst conference call this morning – another advantage of resignation…)

Bolland's departure hasn't played well for Morrisons so far: the news wiped the best part of £400m off the group's market value yesterday. But as today's figures prove, his successor will inherit a pretty ship-shape operation. In fact, they may worry that the only way from here is down...

In today's bulletin:
Bolland goes out with a bang as Morrisons cashes in
Britain pays recessionary price - and managers turn to crime
MT EXCLUSIVE: In-depth profile of new Marks and Spencer boss Marc Bolland
Number of female FTSE directors flat-lines
A Traveller's Tale: Better times in Paris