Bombardier wins £1bn Crossrail contract
Good news for the company which in 2011 lost out on a similarly enormous contract to build Thameslink trains - and for the 760-odd people who will work on it.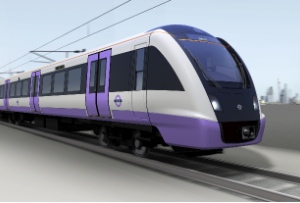 As Londoners eagerly await the end of the decade-long test of their patience that is the construction of Crossrail (who knew circumnavigating multiple giant holes in the ground would be so… annoying?), at least there's some good news for the British economy. Bombardier, the Canadian manufacturer which employs thousands of workers in the UK, has just been awarded a £1bn contract to build the trains for the line.

The company beat competition from Hitachi and Spanish firm CAF to win the contract. It'll support 760 jobs in the UK (244 of which will be new), including 80 apprenticeships. Particularly heartening, considering that in 2011 it lost out to Siemens on a £1.6bn deal to build trains for the Thameslink line - which, considering the number of people Bombardier employs in the UK, was seen at the time as a politically strange move.

The details of the contract are subject to a 10-day 'standstill' period, but essentially involve the company providing a depot at Old Oak Common in west London, as well as 65 600ft trains, each of which will be able to carry 1,500 passengers. According to the Department for Transport, 74% of the amount spent will stay in the UK. So that's nice.

Construction of Crossrail has been going on for what seems like an age now, but it's finally nearing the end. Once it's complete in 2018, the line will begin in Maidenhead in Berkshire and run to Shenfield in Essex via Heathrow, Bond Street and Canary Wharf, and will increase London's train capacity by 10%. Most encouragingly for Londoners, all the trains will be air-conditioned. No more 45 degree commutes in the summer…

Considering it's the second day of a strike on the London Underground, even the unions were happy.

'This news must come as a massive relief for the skilled men and women at Bombardier,' said Unite national officer Julia Long. Presumably she means the jobs, rather than the air-con. But that's got to come a close second...