A bonus for luxury goods
With the credit crunch still in full swing, there's bound to be fewer millions in the City's bonus pools this year. But it doesn't seem to be affecting the demand for luxury goods, according to a new report.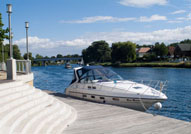 In Barclays Wealth's latest survey of its high net-worth clients, just 31% felt that buying luxury goods or designer clothes was a waste of their hard-earned cash – despite the fact that value for money was considered to be one of the most important criteria for buying decisions. Rich Asians are the most in thrall to luxury brands, with no fewer than 84% of respondents in Hong Kong happy to splash out several thousand dollars on a handbag and convince themselves they've got a bargain.
Exclusivity is also a key criterion for the wealthiest buyers – in other words, they're going to be less likely to wear Burberry if they see half of Basildon wearing the same thing. It's increasingly a problem for luxury goods companies as they try and target the $720bn mass-affluent market. According to Bain & Company partner Claudia D'Arpizio, the key is apparently 'to cater to the top end of the market with specially targeted brands and offerings, and unique or distinct distribution'. Sounds obvious, but it's actually a big change for these firms, who are used to telling the customer what they want rather than vice-versa.
In which case, the likes of Prada and Fendi could do with making a few calls to the offices of Goldman Sachs this week. The US bank – one of the few to escape the general financial ordure – is apparently set to share out $18bn between its staff, according to the Telegraph. That's an average of about £600,000 per person.