Bonuses under the cosh - so bosses take bigger salaries?
Falling bonuses for FTSE 100 bosses have been almost offset by rising salaries this year...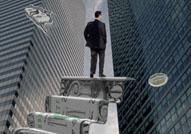 Figures from Income Data Services suggest that FTSE 100 bosses have enjoyed average salary rises of 7.4% this year, despite the recession. That wasn't quite enough to make up for a 29% drop in bonuses, but it wasn't far off: overall compensation was down just 1.5% this year compared to last. Companies will argue that they had perfectly good reasons for these hikes - but in the current climate, it looks very bad indeed...

It's reassuring to see that the variable element of bosses' compensation, i.e. bonuses, is way down after a year of pain for UK plc (this might seem like an obvious consequence, but in practice it doesn't always happen, even in a downturn). However, the surprising part of this report was that the recession seems to have had little effect on directors' salaries, which appear to be creeping up regardless. What's even more bizarre is that the biggest hikes - of almost 13% - came in the construction and building sector, which has probably been hit harder than any other.

The obvious conclusion is to link this to the political storm that continues to rage over City bonuses. Only this morning the Tories have been at it again, calling for emergency measures to prevent banks paying out more than £2,000 in cash bonuses, rather than diverting the cash to their balance sheet to support lending. And politicians are keen to be not only tough on bonuses, but also tough on the causes of bonuses: City Minister Lord Myners was today trying to stir up shareholder opposition to the hefty underwriting fees charged by investment banks for rights issues (once of the major reasons for their recent profit recovery). So maybe bosses are making up for lower bonuses by raising salaries, which are under much less scrutiny.

Of course it's worth remembering that some of these companies may be tied into long-term salary deals, which they're contractually obliged to fulfil. Equally, salary is a reflection of the market rate as much as current performance - and since good corporate leaders remain a fairly scarce commodity, supply and demand dictates that companies are willing to pay for the best ones. Successfully running a big listed company in a recession (as all these bosses are) is no mean feat, and although their salaries may be rising at twice the rate of the shop floor worker (as IDS pointed out today) they'll argue that they're worth it if their actions end up saving hundreds of jobs.

Nonetheless, the fact remains that it looks awful for bosses' salaries to be rising at a time when many are asking their staff to accept pay cuts or freezes. If companies are compelled to do this, their policies are wrong; if they're not, they need to re-think their approach. Because it's not just bonuses that people are angry about - it's a perceived lack of fairness. This kind of story will hardly alter that perception.

In today's bulletin:
Bonuses under the cosh - so bosses take bigger salaries?
Double trouble for BA as regulator and unions weigh in
Google wants a piece of Apple in smartphone war
Forget your green credentials - hire some apprentices
MT Expert's Ten Top Tips: Reducing employee absence