Book review: Adapt, by Tim Harford
Tim Harford argues that success comes when people manage to get things right at an individual level. But, argues Erik Britton, society has to make the big decisions.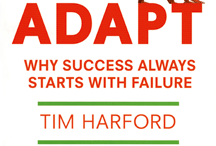 I like books like this: they make you think. Adapt revolves around the key insight that human activities in many spheres - perhaps all - are an exercise in social Darwinism. Institutions and behaviours of immense complexity arise not primarily through design but through trial and error. The fittest - the best-adapted to the environment in which they operate - survive, while the least fit fail. And that failure is a necessary condition for progress. For one to succeed, many must fail.
That has implications across the board: for financial market regulation; for corporations; for competition policy; for military strategy.
It's a very good read. Tim Harford's style is open, clear and persuasive. I found the material on the Iraq war particularly interesting - Harford attributes the change in fortune in Iraq, snatching victory from the jaws of defeat, to the innovative decisions of commanders on the ground, rather than to the 'surge' in troop numbers devised in the Pentagon.
This plausible account resonates with Tolstoy's description of Austerlitz in War and Peace and other accounts of the 'fog of war' - the innumerable obstacles, misunderstandings and mistakes that lie between a strategic plan and its implementation. The strategists believe that by issuing orders and monitoring information flows, they are controlling events on the ground like puppet masters. But orders do not get through to the front line; if they do, they are not executed; if they are executed, the unintended consequences exceed the intended consequences; and information does not flow back to the strategists, or it is misleading.