Book review: Angels, Dragons and Vultures, by Simon Acland
Entrepreneurs can expect to see a healthy return from buying this authoritative guide to finding capital and keeping investors sweet, says Magnus Goodlad.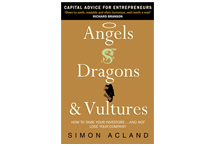 Venture capital has reached a low ebb in the UK at the time when the country needs it most, with activity at its lowest level in over a decade, whether that's new funds raised, investments made or venture-backed IPOs achieved.
The recent announcement by Apax of the sale of its remaining venture investment portfolio, a year after 3i completed a similar transaction, only added to the gloom. For two of the dominant UK venture investors to have voted with their feet is stark illustration that the UK venture capital industry is not in full bloom.
The publication of Angels, Dragons and Vultures, a wry and lucid guide for entrepreneurs on how to raise angel and venture capital and how to manage their business if they do, could not have come at a better time.
It is written by Simon Acland, one of the most experienced and likeable venture capital investors in the UK. After 25 years in the industry, he exchanged office for garret to write a novel set in the First Crusade, before turning his attention and pen back to venture capital. He is exceptionally well placed, having been part of the first generation of widespread venture capital investment in the UK and involved with many success stories.