Book review: Boomerang - The Meltdown Tour, by Michael Lewis
The author of The Big Short on a tour of the west's most indebted nations has a sorry tale to tell, but for a bike ride with Arnold Schwarzenegger, finds Howard Davies.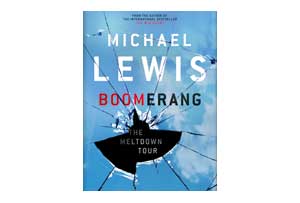 We tend to think of the United States as a country that operates at a rather faster pace than our own: full of bustling people in a hurry to make money, or to create ingenious ways for others to lose it. In many areas of life that characterisation is accurate, but in journalism it is not.
Magazines like the New Yorker or Vanity Fair are happy to give writers several pages and many thousands of words with which to develop their thoughts. Five thousand words is a mere diary item in an upmarket American magazine. If I suggested a piece of that length to the editor of this esteemed journal, he would instantly reach for a blank P45. (Too right, Ed.)
This prolixity is not always a good thing. The New Yorker is often quite unreadable, and indeed unread. But the best American 'colour' writers ply an elegant trade long forgotten over here. Michael Lewis is one such. The author of Liar's Poker, Moneyball and most recently The Big Short, about the New York hedgies who made a mint out of the crisis, he has turned his attention to the fate of the states left nursing millennial hangovers as the crisis rolled on - those that, in Warren Buffett's memorable phrase, were found to have been swimming naked when the tide went out.
At Vanity Fair's expense, Lewis visited Iceland, Greece, Ireland and California, all places that succumbed to the temptations of the borrowing boom, to inspect the wreckage now that the debts have to be repaid.